James Craner, MD, MPH, FACOEM, FACP practices Occupational and Environmental Medicine based in Reno, Nevada.
Dr. Craner specializes in diagnosing, treating, and preventing diseases and injuries caused by exposure to chemical, biological, and physical agents and hazards in the workplace and other environments.
Currently Dr. Craner serves as the full-time Corporate Physician for Tesla, Inc. 
Dr. Craner is also the founder and principal developer of webOSCAR™

, a software-as-a-service (SaaS) platform that automates and streamlines the process of managing employee- and company-specific health, safety and environmental data and requirements in a single, real-time system.  webOSCAR and Dr. Craner have patent-pending advanced analytical methods and tools for prediction and aggregate trends for noise-induced hearing loss, biomarkers of occupational toxicant exposure, and lung function screening.  Companies and organizations in industries of all sizes rely on webOSCAR every day to effectively protect their employees' health and keep on top of compliance requirements.
Updates
December 2020.  Dr. Craner and Neil Willits, PhD filed a US Patent Office provisional patent application on December 7, 2020 for their invention, "Methods and systems for audiometric early detection, prediction and aggregate trend analysis of noise-induced and other progressive hearing loss." This novel statistical methodology and related information automation technology will transform audiometry from a compliance-driven, individual screening test with limited preventive capability into a medical surveillance process that can be directly linked to aggregate corrective and prevention actions. This patent emanates from the technology presented by Dr. Craner in 2016 as a Finalist in the OSHA-NIOSH Noise Challenge and is described in Dr. Craner's June 7, 2017 UC Berkeley webinar, 'Prevention of Noise-Induced Hearing Loss.'
January 2020.  Due to existing commitments, Dr. Craner will not be accepting new patients for direct clinical care or consultation. Effective Nov. 19, 2020, Dr. Craner's 'land line' number (775) 345-1407 has been discontinued.
October 2018.  Dr. Craner and John Kimball, CIH, Senior Industrial Hygiene Program Manager at Tesla, Inc. co-presented an industrial hygiene educational course, Do Hearing Conservation Programs Really Work?  Prove It! for the University of California Berkeley's Center for Occupational and Environmental Health (COEH).  T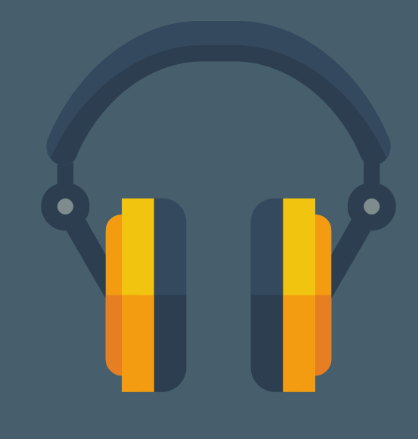 his course examined the purpose of hearing conservation programs (HCPs), and provocatively challenged why they may not fulfill their intended purpose of preventing noise-induced hearing loss (NIHL) in spite of extensive investments in fulfilling regulatory compliance requirements. Participants learned how and why noise exposure (industrial hygiene) and hearing (audiometry) data currently collected are under-utilized. New approaches on how to transform hearing conservation from a compliance obligation to an evidence-based, Best Practice system that measures and manages risk by leveraging the power of analytical aggregate statistics and information technology were presented.
August 2018.  Dr. Craner and Matthew Le, MPH, CIH, CSP, Senior Manager Industrial Hygiene and Occupational Health at Tesla, Inc. co-presented a continuing education webinar, Lithium: A Novel Occupational Hazard in Electric Vehicle Battery Production and Life Cycle Management, for the University of California-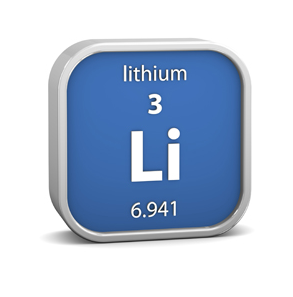 Berkeley's Center for Occupational and Environmental Health (COEH).  The webinar explored the extraction, processing and uses of lithium for EV batteries; the toxicity of lithium; opportunities and challenges for leaders in the EV battery industry to develop and implement Best Practices for Medical Surveillance and Industrial Hygiene in the applications; and the life cycle for lithium ion EV batteries and plans for product stewardship.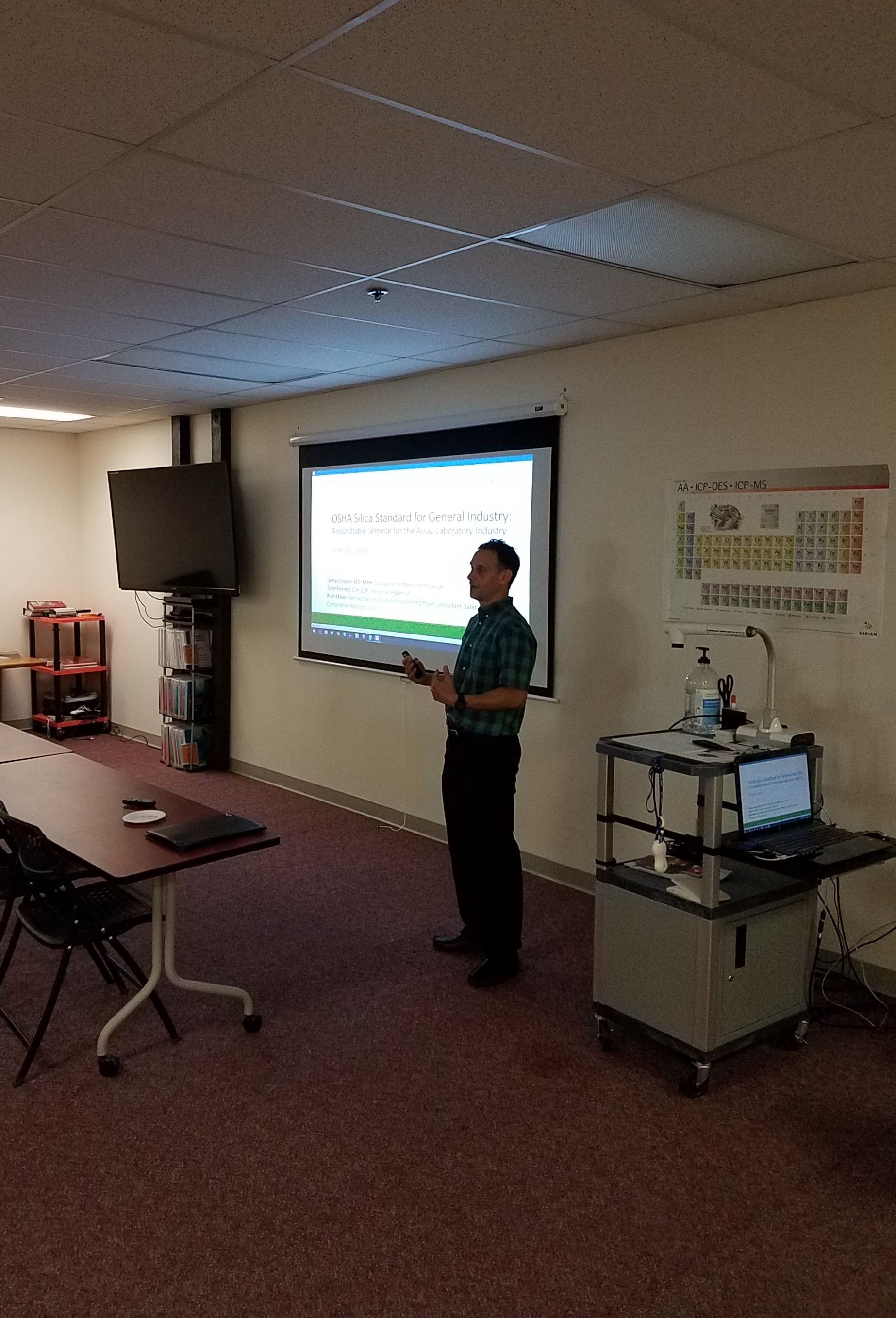 June 2018.  Dr. Craner and his industrial hygiene and his health and safety colleagues, Rich Meier (OSHA Compliance) and Tyler Forrest, CIH, CSP (Industrial Hygiene) presented OSHA Silica Standard for General Industry: a Roundtable Seminar for the Assay Laboratory Industry.  The presentation addressed the health effects of respirable silica dust, and the medical surveillance, exposure monitoring and control, training, recordkeeping, and compliance plan requirements of the newest OSHA health-based Standard 29 CFR 1910.1053.
June 2017.  Dr. Craner presented a continuing education webinar, Prevention of Noise-Induced Hearing Loss, for the University of California-Berkeley's Center for Occupational and Environmental Health (COEH) on June 7, 2017. The presentation examined the effectiveness of hearing conservation programs and interventions, limitations of regulatory compliance for noise, and Best Practices for hearing loss prevention.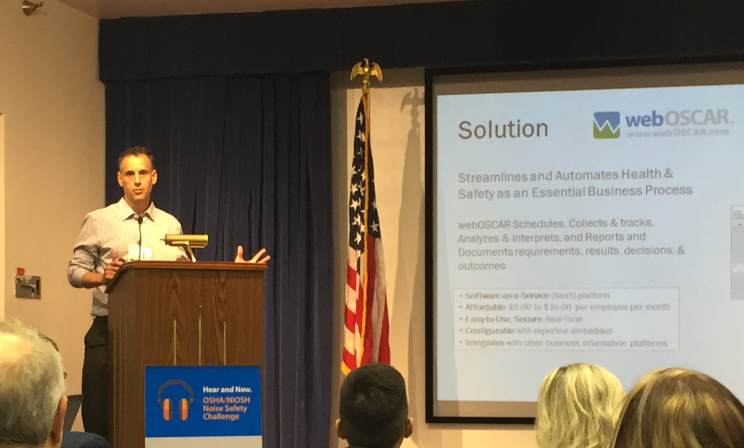 October 2016.  Dr. Craner presented Audiometric Data Analytic Methods and Tools as one of the 10 finalists in the US Department of Labor's "Hear and Now" Noise Safety Challenge event in Washington, DC on October 27, 2016. Read about it on NIOSH's Science Blog: Hear and Now Noise Safety Challenge Winners (December 19, 2016).