James Craner, MD, MPH, FACOEM, FACP practices Occupational and Environmental Medicine based in Reno, Nevada.
Dr. Craner specializes in diagnosing, treating, and preventing diseases and injuries caused by exposure to chemical, biological, and physical agents and hazards in the workplace and other environments.
He currently consults to the lithium ion battery industry, and electric vehicle (EV) and renewable energy industries at all levels of the value chain: from mining and refining, to manufacturing, R&D, recycling and emergency management.  In that capacity, Dr. Craner serves as Contract Corporate Physician to Tesla, Inc. after having served four years in a full-time role.
Dr. Craner is the founder and principal developer of webOSCAR™

, a software-as-a-service (SaaS) platform that automates and streamlines the process of managing employee- and company-specific health and safety data and requirements in a single, real-time system.  webOSCAR and Dr. Craner have patent-pending advanced analytical methods and tools for prediction and aggregate trends for noise-induced hearing loss, biomarkers of occupational toxicant exposure, and lung function screening.
In addition, Dr. Craner is a certified personal trainer (NASM-CPT) and certified nutrition coach (NASM-CNC) who works with individuals 1-on-1 to restore and improve their health and fitness through diet, exercise, and other lifestyle interventions.
Updates
August-September 2023.  In August, 2023 Dr. Craner gave an invited presentation, Managing Toxicity & Health Risk for Black Mass, as part of a panel discussion at NAATBatt International's Lithium Battery Recycling Workshop in Indianapolis, Indiana. The presentation addressed five key health risk determinants of operational risk to human health around battery chemicals—for workers and the organization—and provided practical take-away points for decision-makers to consider, not only for black mass (cathode and anode) but also for all levels of the value and supply chain. Notably, Dr. Craner posed the provocative question, 'Is Lithium the New Lead?,' and summarized the many toxicological similarities–and highlighted important differences–between these key battery metals.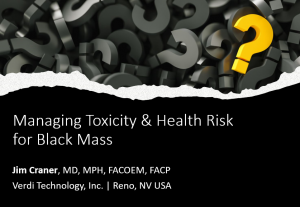 He also explained the critical differences between Health vs. Safety approaches to chemical risk management, the importance of not conflating regulatory compliance with effective risk management, and the pivotal role that non-animal toxicity testing will take in addressing the relevant human toxicology of new chemicals that drive lithium-based battery chemistry.
In September, 2023 Dr. Craner was one of thirty industry experts invited by the US Department of Energy and Federal Consortium for Advanced Batteries (FCAB) Li-Bridge program to its Detroit, Michigan meeting for industry and government representatives to exchange views on topics related to lithium-based battery recycling. Dr. Craner was the only participant representing specific expertise in occupational and environmental health in addition to his extensive experience in the EV industry.
March 2022.  Dr. Craner's critical review/commentary article, Audiometric data analysis for prevention of noise‐induced hearing loss: A new approach, was published online on March 15, 2022 and is available in the May, 2022 issue of American Journal of Industrial Medicine. 

A downloadable copy of the print article is available here.
December 2021.  A PCT (International Patent Application) was filed on December 6, 2021 for "Methods and systems for audiometric early detection, prediction and aggregate trend analysis of noise-induced and other progressive hearing loss."
December 2020.  Dr. Craner and Neil Willits, PhD filed a US Patent Office provisional patent application on December 7, 2020 for their invention, "Methods and systems for audiometric early detection, prediction and aggregate trend analysis of noise-induced and other progressive hearing loss."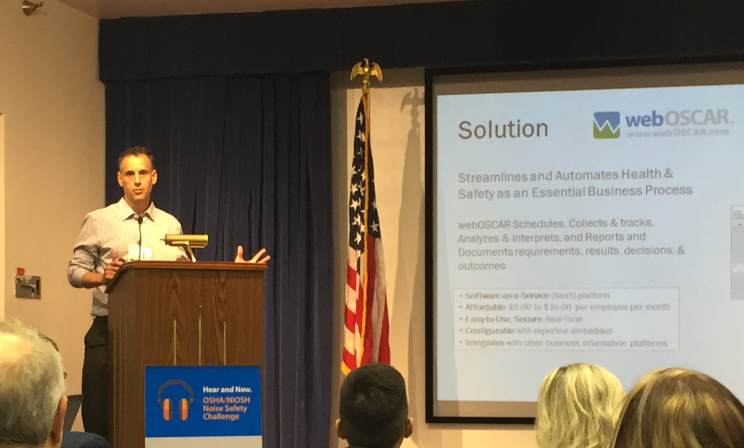 This novel statistical methodology and related information automation technology transforms occupational audiometry from a compliance-driven, individual screening test with limited preventive capability into a medical surveillance process that can be directly linked to aggregate corrective and prevention actions. This patent emanates from the technology first publicly presented by Dr. Craner in 2016 as a Finalist in the OSHA-NIOSH Noise Challenge.